Geoffrey Edelsten is a medical entrepreneur who has been widely credited[1,2] with revolutionising general practice in Australia and commencing corporate medical practice, extended-hours medical centres, and championing bulk-billing in Australia when its introduction was controversial and divisive. Bulk-billing is the term used when a patient attends a general practitioner

(referred to as 'family physician' in other jurisdictions). Edelsten had in earlier years led significant changes in pathology delivery and medical deputising. Edelsten has been recognised as one of the most influential GPs in Australia[3].
Edelsten was the first private owner of a major football team franchise, when in 1985 he purchased the Sydney Swans Football Club, saving it from extinction.
Childhood
Edelsten was born in Carlton, opposite the Carlton Football ground at Princes Park, an inner suburb of Melbourne, the elder son of Esther and Hymie Edelsten. He attended Princes Hill Public School and his early childhood in Carlton was an important contribution to his love for Australian Football and Carlton Football Club.
Edelsten's parents instilled in him a strong work ethic as they both worked intensively after Hymie Edelsten (now deceased) returned from World War 2 having served in the Australian Defence Forces from 1940-1945. They moved residence from Carlton to Brighton, and Esther and Hymie commenced a lingerie retail chain "Linda Leigh" which they operated successfully until they sold it in the late 1970s and retired.
Geoffrey Edelsten changed schools to Mt. Scopus Memorial College, Australia's first Jewish co-educational school, whose first and major campus was established in Burwood. Edelsten excelled academically and was an outstanding sportsman, where he captained the school football and cricket teams, won the 100m sprint and was the first House Captain of Bialik House, which won the school competition in its first year. Edelsten was a senior officer (C.U.O.) in the school cadet corps and a school prefect.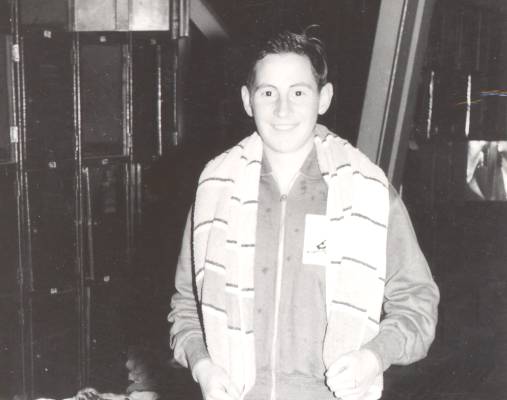 Awards
Edelsten was awarded the Lovaran Cup as the most outstanding student athlete, and the M S Bromberger Prize as the student that others most wished to emulate.
Scholarship
Edelsten was awarded a Commonwealth scholarship to the Medical School of the University of Melbourne.
University
Geoff Edelsten had a distinguished undergraduate career where he obtained honours in many subjects, and was awarded the Exhibition (1st in class) in Anatomy, including Histology and Embryology, sharing this prize with Richard Larkins (now Vice-Chancellor of Monash University). Edelsten's name appears on an honour board in the School of Medicine as a prosector in Anatomy. Honours in medicine in his final year ensured his appointment as a junior medical officer (intern) at the Royal Melbourne Hospital.
[1] Australian Doctor, 8 July, 1985 pp 1, 64-65
[2] Australian Doctor, 2 Nov, 2007, pp 19-20
[3] Australian Doctor, July 2006